THE MASS OF THE LORD'S SUPPER
THE LITURGY OF THE LORD'S PASSION AND DEATH
THE PASCHAL VIGIL MASS (ONLY STREAMING)
IGNATIAN RETREAT IN DAILY LIFE – LENT 2021
Four weeks with God's word and personal spiritual guidance
Deadline for registration February 12 at 11.45 pm
February 15 – 21, 2021 – introductory conversation
February 22 – March 21, 2021 – retreat
March 22 – 28, 2021 – concluding conversation
Friends!
We are allowed to have public Sunday mass with up to 35 attendees lasting no more than 30 minutes. Admission by ticket only (https://billetto.dk/users/cayac-denmark). Attendees should keep 2-meter distance between one another.
The congregation mustn't sing. However the choir may if it doesn't prolong the length of the mass. There may be no sermon or very short one. We'll choose the shortest texts from the missal, some may be omitted.
For those who cannot attend our Sunday mass in person we'll have zoom streaming. The link coming soon.
Looking forward to celebrating mass with you,
fr Paweł Beń SJ
Friends! In the last moment, we were asked to cancel Christmas masses with congregation in church. I planned to have an online one for you today, December 25th, at 6 pm, and some other days. Today in the morning, I went to listen to a confession in an isolation ward for covid patients where I unfortunately was exposed to the risk of getting infected. The hospital personel advised me to stay 7 days in isolation and be tested three times within this week. It means that I won't be able to stream masses for you from our church. Despite of all odds have a joyful and healthy Christmas time!
Due to increasing cases of COVID-19 in Denmark, Sankt Augustins Kirke introduces a requirement to wear masks during all services, including CAYAC Sunday masses. It means that you need to have a mask on your face all the time when you are in the church. The only moment when you don't need to do that is when you consume received communion. Please, bring your own masks. If somebody happens not to have his own, it is possible to buy one for 5 kr. (Only MobilePay: Pawel Ben, 22 46 18 76) at the entrance before CAYAC Sunday mass.
We introduce this requirement also partly because four Jesuits from Copenhagen were visiting their fellows in Aarhus last Thursday, September 24th, and, then, got to know that one of the fathers had been in contact with a person who got sick. The risk that I am infected is close to zero, but I want to take all possible safety measures, especially during our mass on the upcoming Sunday, September 27th. Don't be surprised if a lay man is distributing communion to you on that Sunday.
On using face masks: https://www.sst.dk/en/English/Corona-eng/Face-masks?fbclid=IwAR0NToBTCgrGvnXRe3ESB2xgwNVScJDVdLOJ8IlD6QhbqwmV3RdGgbN5vHw.
Fr Paweł Beń SJ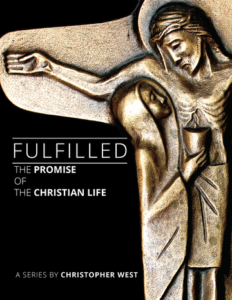 Have you ever wondered why as a man I am drawn to women? What is it in feminine that is so attractive, mysterious and other that mesmerizes and pulls  my senses? Have you wondered why as a woman I want to be known by a man as a beautiful one? To find a home in his strong, safe and gentle embrace? Have you ever wondered what is sex all about? Why some of my desires to the opposite sex sometimes ge me in a lot of deep troubles? How can I reconcile my masculinity with christian call for greatness and  purity? What does it mean to be a man or a woman?
The first words placed in the mouth of Christ in John's Gospel are not: "Follow all these rules or you're going to hell." Rather, Christ probes our hearts with a question: "What are you looking for?" (John 1:38). Christianity is not primarily a religion of law! It is first and foremost a religion of longing and desire.
During 16 Wednesday evenings, beginning from September 23rd, from 18:00-21:30 at Saint Augustine church, you will be taken on an eye-opening journey of the first pillar of the Catechism of the Catholic Church – beginning with the "ache" of human longing and ending with a vision of the Creed like you have never heard before. You will see that beyond any shadow of a doubt, Christianity is not the backward list of prohibitions. Rather it is the religion of desire, longing, and yearning that holds out to you and me the hope of infinite bliss, ecstasy (Oh yes, guys I used this word!) and fulfilment.
We start every Wednesday evening with a warm dinner at 18:00 at Saint Kjeld gade (between 1 and 3, red doors going downwards), watch 25 min. DVD film and split into single sex groups.
Please, join us by registering at: robert.olinski@gmail.com, sumi.olinski@gmail.com or reach-out to father Pawel Ben at: pb@jesuitterne.org.
During all evenings we will respect official COVID regulations.